Pretty Sweet Statue
Updated: 6:35 am, Fri Apr 27, 2018.
By Cole Short – Hillsboro Banner

HALSTAD, Minn. – A long list of giant statues lines Minnesota's roadways from the world's largest pelican in Pelican Rapids to Otto the Otter in Fergus Falls to Paul Bunyan and Babe in Bemidji.
That list may be getting longer with the planned construction of a 21-foot-tall statue in Halstad.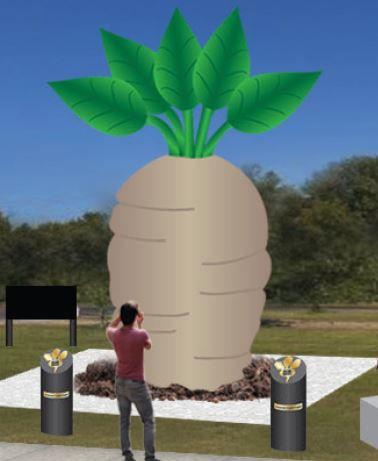 And this one may be the sweetest of them all.
A group of Halstad business owners and private citizens are raising money to build a giant sugar beet statue in the heart of the city.
"There have been books published about all the structures you can go see on Minnesota's highways," said Emily Finney, an insurance agent in Halstad and one of the project's supporters.
"We wanted to put ourselves on the map and give people another reason to come here. And there really isn't any other structure like this that we're aware of."
The roadside attraction remains in the planning stages but it's already received a thumbs-up from Halstad city leaders.
Organizers hope to set the structure on the west side of Highway 75 west of the Cenex Convenience Store at 7 3rd St. E.
However, that plan still needs approval from state highway officials. If that proposed site gets rejected, an alternate site on city-owned land could be picked, Finney said.
Artist and sculptor Josh Porter of Avalon Studios in Merrifield, Minn., has been lined up to create the statue, which will be made using the drum of a cement truck.
Porter was the artist who worked on the Babe the Blue Ox statue when it was restored in Brainerd.
Finney estimated the statue will cost $29,000 to build while the overall project could reach $65,000 to $70,000.
Businesses and corporate donors are being sought to help pay for the statue, and Finney said organizers plan to reach out to American Crystal Sugar in Moorhead to ask about partnering on the project.
Reached Wednesday, American Crystal Sugar Vice President of Administration Lisa Borgen said the sugar beet processing giant would be "very interested" in helping Halstad.
"The sugar beet industry plays a very important role in the economic prosperity in and around Halstad and all communities in the Red River Valley," Borgen said.
"(We) strongly support these communities with our Community Roots giving program and would be very interested in this project."
Porter plans to start the statue at his studio in southern Minnesota and come to Halstad in July to finish its construction, which should take about two weeks, Finney said. 
She said she hopes the statue serves as a celebration of the sugar beet industry.
"We're hoping that people are excited about this," Finney said. "The most common comment we are getting is 'That's really cool.' And the next is 'Wait, are you serious?' Yeah, we're serious."
Read full article HERE